Whatever Your Current Bike/E-Bike Security Solution
Quick Stop Makes It More Secure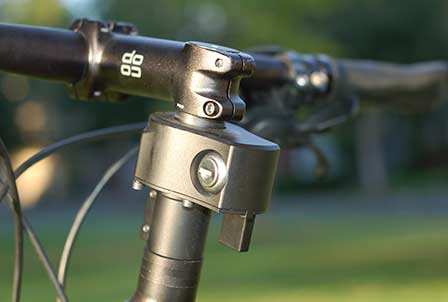 While the thief is cutting through your current bike lock1, Quick Stop is alerting you. As the thief fails while trying to ride your bike away2, you are on your way. By the time the thief carries your bike/e-bike 15 feet, you are back asking what they are doing.
NIP IT IN THE BUD
As soon as the wire cutters touch your (cable) lock, your phone alarm sounds, alerting you to the problem. By disabling your bike/e-bike's steering, Quick Stop provides additional time to get back to your bike/e-bike before a thief can get away.
LIGHT WEIGHT, ALWAYS THERE
Quick Stop weighs less than 400 grams. It is always there, built in, out of the way, and ready when you need it. Didn't bring your lock? Didn't plan on a stop? No worry, Quick Stop is there to secure your bike/e-bike for a quick stop.
STOP EVEN THE PROFESSIONAL THIEF
No bike lock can stop a professional thief3 who has a getaway van.2 Quick Stop is no exception.
But a good U lock can slow down a professional thief by 20 seconds or more.3 Add Quick Stop, get notified, and be at your bike/e-bike in 15 seconds. Done.
HOTEL, MOTEL, GARAGE, SHED
Worried about a theft during the night? Quick Stop can sound the alarm up to 300 ft* letting you monitor from the motel room, hotel room, or your bed at home.
HALLWAY, TRUNK, GARAGE
Quick Stop let's you rotate your handlebars independent of the front wheel. With Quick Stop you get your bike/e-bike out of the way whether it is your office hallway, apartment hallway, or garage. Loading your bike/e-bike in your car trunk or car rack? Quick Stop makes it ten times easier.
how riding away is stopped