When You Don't Want to Carry a Lock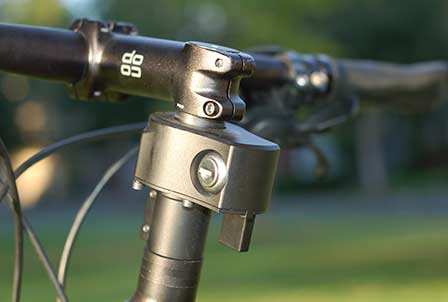 I often would go on bike rides with no plans to stop and not carrying a lock. In spite of that, I kept running into times where I wanted to stop for a minute - bathroom break, run in a convenience mart, or just pick up that one item I needed at the store. I'd run in and hope my bike was still there when I returned.
Designed For Quick Stops
My major concern was the casual thief - the person that sees a bike and decides to ride it away -(the way most bikes are stolen). I decided to design a simple system that would be part of the bike, always there and easy to use, that prevents someone from riding my bike away.
How it Works
I designed Quick Stop™ Bike Lock as a simple solution. Lock it and the bike functions as usual. Unlock it and the handlebars are disengaged from the front wheel. Simply put, the bike cannot be ridden.
If your bike is touched, Quick Stop sends a tamper signal to your cellphone. One movement of your bike and your phone is alerted. Since your bike cannot be ridden away, you'll be outside before anyone has moved ten feet.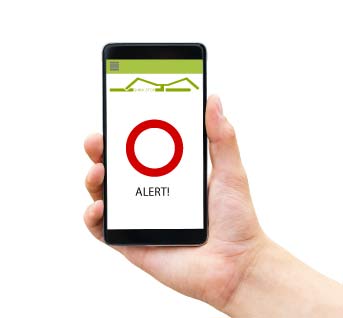 With Quick Stop lightweight bike lock integrated into your steering tube, it is always there and ready to be used. I love it. You will too.
An Additional Layer of Security with a Built-in Lightweight Bike Lock
Clip off your typical bike lock and your bike is gone in 5 seconds. Break Quick Stop and your bike becomes no more usable! The phone alert means you're there with a friendly "like my bike?" before they know what's going on.
An Urban Solution
Quick Stop lightweight bike lock is the perfect solution for the urban cycler. It is great for quick runs to the store. It fits the urban lifestyle. Ditch the car for trips in town. Store your bike in the apartment front hall or bedroom. Just unlock Quick Stop and rotate your handlebars and your bike is out of the way.
A Road Trip Helper
Quick Stop is great for the weekend cycler. Unlock Quick Stop and toss your bike in the car. Being able to manuever the handlebars independent of the front wheel makes it much easier to load in your SUV. Unlock Quick Stop and stacking multiple bikes on the rear bumper rack is that much easier.
Even Better Overnight Security
At the motel, on the back of your car or in your garage at home, combine Quick Stop lightweight bike lock with a Krypto lock and your bike is that much harder to steal during the night. While a thief is cutting through that traditional lock, Quick Stop is alerting your cell phone and keeping the thief from riding off.