Make Your E-Bike/Bike Even More Secure
Quick Stop Bike Lock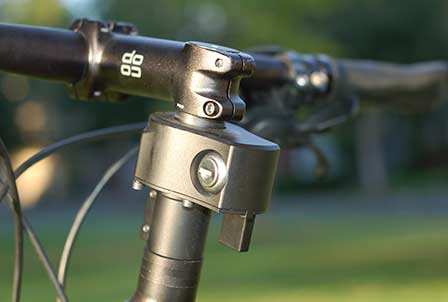 Your Bike Cannot Be Ridden Away
Even if your current bike lock gets cut off, Quick Stop keeps your bike from being ridden away. How? Your handlebars are disconnected from your wheel. Steering is totally disabled.
INCREASE THE PAIN
What would you rather steal - a bike you simply ride away after you cut through the lock - or - a bike you have to pick up and haul away? Make your bike that much less attractive.
LIGHT WEIGHT, ALWAYS THERE
Forgot to bring the U-Lock? Your bike is still protected from snatch and ride.
BETTER BIKE STORAGE
Reduce your bike's profile. Get your bike/e-bike out of the way - office, apartment or garage. Reduce the width of your bike 50%. Car trunk or car rack? Quick Stop makes it ten times easier.
BETTER TRANSPORTATION
Independent handlebar rotation makes car trunk or bike rack loading easy.
how riding away is stopped