When You Don't Want to Carry a Lock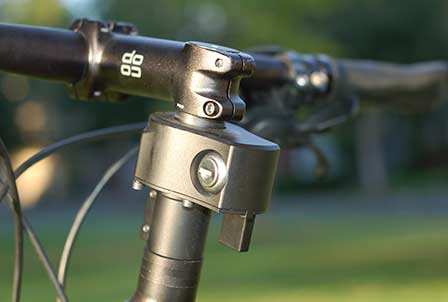 Installs on your steering tube below your handlebars
Built-in, always there
Unlock it and the handlebars spin ... disconnected from the wheel
Your bike cannot be ridden
If your bike is moved, your cellphone notifies you
You have time to return and check on it
Lock it and ride away
Designed For Quick Stops
I often would go on bike rides with no plans to stop and not carrying a lock. In spite of that, I kept running into times where I wanted to stop for a minute - bathroom break, run in a convenience mart, or just pick up that one item I needed at the store. I'd run in and hope my bike was still there when I returned.
My major concern was the casual thief - the person that sees a bike and decides to ride it away -(the way most bikes are stolen). I decided to design a simple system that would be part of the bike, always there and easy to use, that prevents someone from riding my bike away.
How it Works
I designed Quick Stop™ Bike Lock as a simple solution. Lock it and the bike functions as usual. Unlock it and the handlebars are disengaged from the front wheel. Simply put, the bike cannot be ridden.
If your bike is touched, Quick Stop sends a tamper signal to your cellphone. One movement of your bike and your phone is alerted. Since your bike cannot be ridden away, you'll be outside before anyone has moved ten feet.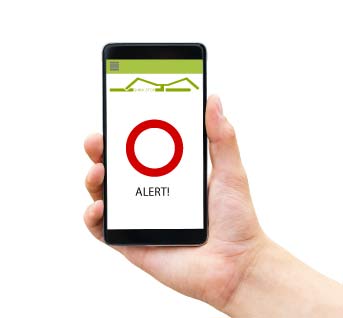 With Quick Stop lightweight bike lock integrated into your steering tube, it is always there and ready to be used. I love it. You will too.
An Additional Layer of Security with a Built-in Lightweight Bike Lock
Clip off your typical bike lock and your bike is gone in 5 seconds. Break Quick Stop and your bike becomes no more usable! The phone alert means you're there with a friendly "like my bike?" before they know what's going on.
An Urban Solution
Quick Stop lightweight bike lock is the perfect solution for the urban cycler. It is great for quick runs to the store. It fits the urban lifestyle. Ditch the car for trips in town. Store your bike in the apartment front hall or bedroom. Just unlock Quick Stop and rotate your handlebars and your bike is out of the way.
A Road Trip Helper
Quick Stop is great for the weekend cycler. Unlock Quick Stop and toss your bike in the car. Being able to manuever the handlebars independent of the front wheel makes it much easier to load in your SUV. Unlock Quick Stop and stacking multiple bikes on the rear bumper rack is that much easier.
Even Better Overnight Security
At the motel, on the back of your car or in your garage at home, combine Quick Stop lightweight bike lock with a Krypto lock and your bike is that much harder to steal during the night. While a thief is cutting through that traditional lock, Quick Stop is alerting your cell phone and keeping the thief from riding off.
Can It Still Be Stolen?
There are two theft mechanisms that compromise Quick Stop: pick up trucks and wheelies. Quick Stop is a great theft deterrent but not a guarantee. Here is what to watch out for:
The Truck Heist
Quick Stop is for stops where you are in a store or a restroom. Usage is for situations where you are less than 150 feet from your bike. At that distance once your phone alert goes off you should be able to return to your bike in less than 10 seconds in most specialty stores and 20 seconds in most bix box stores.
While a thief putting your bike into a truck and driving away before you get there may be theoretically possible, you should have a good description of the vehicle along with the license plate number for the police.
The Wheelie Heist
There is the chance a person attempts to take your bike by riding off on only the rear wheel (see what it takes to do this trick) doing what is known as a wheelie. Someone very good at wheelies may be able to do this. On the other hand, riding a wheelie requires controlling the bike's side to side motion in addition to the front to back motion. This is done by turning the handle bars left and right to move the center of balance, so as to not fall over. Doing this with Quick Stop is deceptively difficult. Quick Stop disconnects the front wheel so that the wheel doesn't move when the handlebars are moved. Attempts to balance the rider using the front wheel are foiled. The thief is likely to lose balance and be splayed out on the street.
Remember, no bike lock is completely secure. No car lock is completely secure. The goal is to significantly reduce the probability of theft. The choice is yours.
The Bottom Line
NO lock will stop all thieves from taking your bike. It is practically impossible to prevent. Locks are designed to make a bike harder to steal and lower the incidence of thefts. Here is what I recommend:
Add Quick Stop to your theft arsenal
Don't leave your bike out in high crime areas (period)
Slow down any would-be thieves when using Quick Stop

Place your bike away from streets and parking lot drives
Park your bike inside the store doors
Add a lightweight cable lock in crime-ridden areas

Don't leave your bike any longer than you need to
NEVER secure your bike with JUST a cable or U-lock
For close to zero theft risk

always leave a ride buddy with your bike
don't stop during a ride