Notifies You If Your Bike is Being Tampered With
Gives You Time to Return Before Your Bike is Gone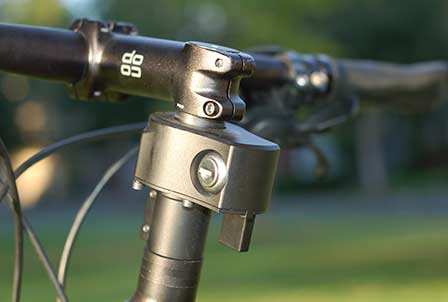 No matter what lock you use it can be broken in less than 10 seconds (See: Who's trying to steal your bike). Quick Stop is not a bike lock so it can't be broken.
Stop The Theft Before It Happens
Most thefts are opportunistic. In fact, 100's of thousands of bikes are recovered annually by police.1 The only way to stop a thief is to catch them in the act. Quick Stop creates the space and time to do that. The Quick Stop integrated Tamper Detector alerts you if your bike is being moved. In the 10 seconds it takes you to get to your bike, the thief would have likely ridden away. That is why Quick Stop disables your handlebars. The thief is forced to carry your bike away. Quick Stop gives you back the 10 seconds you need to return before the thief gets far.
Light Weight, Always There
Quick Stop weighs less than 400 grams and is built into your steering tube. It's always there, out of the way, and ready when you need it. Never leave your bike unlocked again.
Even the Professional Thief Is Stopped
No bike lock will stop a professional thief.2 Quick Stop is no exception. The professional thief will just throw the bike in the back of a van and be gone in 5 seconds.
But there is a solution. A good U lock will slow down the thief by a good 10 seconds.3 Add Quick Stop and you will know your bike is in trouble, and the D lock will provide the time you need to get to your bike before it hits the truck bed.
The bottom line is: be smart. Use the appropriate amount of defense for the appropriate situation to significantly reduce the risk of theft to a comfortable level. Quick Stop gives you another critical tool for your arsenal.
The ABC's of How it Works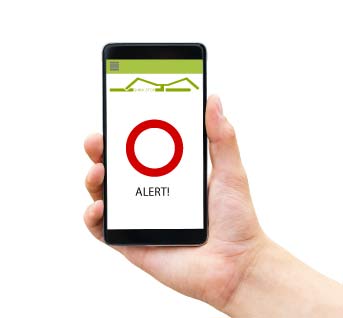 alerts on bike tampering
Quick Stop builds in to your steering tube, always there, every ride
Unlock it and the handlebars spin independent of the front wheel
If your bike is moved, the internal tamper detector triggers your cellphone app alarm
You return to check on your bike as needed
To ride, Lock it and go
Breaking It Doesn't Break It
Bike Locks are designed to fight theft like a boxer, using increasing strength. Quick Stop fights theft like a martial artist, using the opponents own strength against them.
What if they break the lock?
No problem. Since the bike is in the unlocked position anyway, breaking the lock just means the bike still cannot be ridden.
What if they break the tamper detector?
No problem. The tamper detector works by sending a heartbeat signal to the cellphone. If the detector is broken and the heartbeat stops, the alarm will go off.